Are you ready for making a smooth career pivot into IT?
We help ambitious, purpose-driven professionals who are sick of hearing: "Sorry, we have chosen more experienced candidate".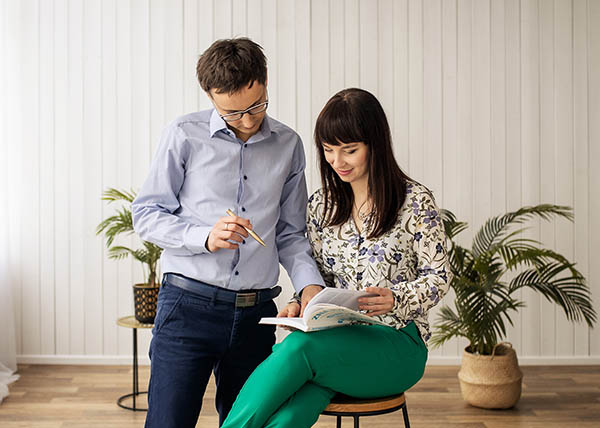 Hi, we are Klaudia & Łukasz Jarych
We started CareerShift2IT because we see how many candidates who are professionals stuck in their occupations. They are underpaid, not happy at their workplaces and scary to take any next step to change their current situation.
Additionaly, system of recruitment is focused main on hard skills and experience, not really of your potential and ability to fast learn.
No worry, We know if you have passion for something, you can master of any hard skill or application in short time.  We know also what you can do to brand yourself and proactively stand out before another candidates during career transition process. We are happy and excited that we can share our proven job search techniques coming from our experience and experience of our students.
DEAR KLAUDIA & ŁUKASZ, I REALLY WANT TO...
Get clear career clarity and find out what role in IT is for you
Want to strategically set up your career goals for next 5 years
Want to know exactly what role in IT is for you
Want to be happy at your work and not feel burn out
Accelerate my career pivot process into IT
Want to learn our proven strategies for building foundational knowledge and new skills
Want to know how turn your fundamental knowledge into real world results that you can leverage as experience to land a dreamed job in a new industry
Want to get rid of your mental resistance before change and move forward with whole process
Land job offers without sending hundreds of CVs
You heard about networking but you do not know how it can land offers for you
Be sure that your resume will be at the top of the pile and your linkedin profile will attract recruiters' eyes
Get access to hidden job market
Opinie Klientów - wycinki z social mediów
Wyrusz z nami w fascynującą podróż dookoła pracy i zapisz się na utalentowany newsletter! Zero spamu, same konkrety i hektolitry inspiracji!
UWAGA! Zapisz się na nasz newsletter i bądź zawsze na bieżąco z przebranżowieniem oraz zmianą zawodową!
Kontakt
Masz pytania lub coś jest niejasne?